Last week terjumpa resepi dorayaki... mcm biaser ler.. cut n paste, print n paste kat buku resepi ku itew.. tetiba.. izzah dok belek2, tgk nama dorayaki.. 'nii mesti yg doraemon suka makan tuh.. ma nak.. ma nak...' mcm biaser ler makcik kenit tuh kan... kalau nak mmg tak sabar. bole tetiba lapar.. walaupon baru lepas makan
alahai... resepi dorayaki nii kena guna mixer plak dah.. lemah badan nak guna mixer yg dah semput tuh (aka malas pon ada jugak skit2). emmm baik cari resepi pancake je lah.. buat kecik2 mcm dorayaki... yg penting sedap. pancake dah selalu buat.. tp seriau nak guna baking powder banyak2 niii..., itulah jugak penyebab pancake ku itew leper jer... at last jumpa jugak ler resepi yg solve my problem with baking powder niii.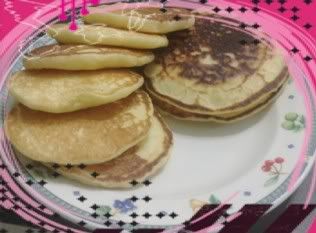 Asal dari Overnight Yeast Pancake from AllRecipe.. tapi dah alter skit2
• 2 1/4 cups all-purpose flour

( guna hi-protein flour sbb tu jer yg ada kat rumah aritu)
• 3 tablespoons white sugar
• 1 teaspoon salt
• 1 teaspoon ground cinnamon

(malas nak isi, takut izzah tak suka rasanya)
• 2 1/4 teaspoons rapid rise yeast

(guna 1 tablespoon)
• 1 teaspoon vanilla extract
• 1 1/2 cups warm milk
• 1/4 cup butter, melted

(masukkan jer butter ni dlm susu suam tuh.. bg dia cair sendiri)
• 1 egg
DIRECTIONS
1. In a large bowl combine flour, white sugar, salt, cinnamon and yeast; mix well. Add vanilla, milk, butter, and egg until well blended. Cover and place in refrigerator overnight

(just biarkan dlm 1/2 jam jer at room temperature, dah kebuluran.)
2. Heat a lightly oiled griddle or frying pan over medium high heat. Stir the batter with a whisk. Pour or scoop the batter onto the griddle, using approximately 1/4 cup for each pancake. Brown on both sides and serve hot. Saya guna sudu besar, buat 2 sudu each... kengkonon yg tiru bentuk dorayaki kekeke...
bila nak ngap plak tuh choc peanut butter dah habis, lastnya makan ngan susu pekat manis je lah
yummy yummyy... mmg gebuzz gitu
Regards;
Rimbun with LOVE